2017-10-22
Was your primary home a victim of the recent California fires?

We are here to help! We are offering the 203(h) FHA Disaster Relief Loan to relieve some of your financial worries as we help you find a new home!

Please contact
Alicia Blackwood (916) 234.1006
---
2017-10-20
How Millennials Can Overcome Hurdles in the Way of Homeownership.
Do your research ahead of time to know the type of house you can afford in your area to manage your expectations. (Getty Images)
According to a report from Ellie Mae released in April, millennials represent 45 percent of all purchase loans, making them the largest age group in home purchasing for the first time. This is a noticeable shift for a generation previously known to prefer renting to homeownership. That said, there are a few roadblocks members of this generation will need to overcome before making the jump into a new home. Read more here
---
2017-10-11
Program Update - Cal-HFA Extra Credit Teacher Program.
This program is for teachers, administrators, school district employees and staff members working for any California K-12 public school, which includes Charter schools and county/continuation schools. Applicants must also be first-time homebuyers. *Income and other restrictions apply. Call for more details. 916-234-1006
---
2017-10-01
Buying your dream home? Don't do this!
Purchasing a home is a huge purchase, most likely the largest you will make during your lifetime. Avoid self-sabotaging and ensure your journey to home ownership goes smoothly every step of the way.
Here are three things you'll want to avoid:
1. For Sale by Owner
Trying to sell your home by yourself is sheer madness. Your real estate agent will have your best interest in mind, gearing you in the right direction. This professional will guide you through the process including the piles of paperwork that can seem extremely overwhelming. Please contact The Blackwood Team and we will represent you all the way home.
2. New Lines of Credit
Your credit score can be a game changer. During contract you do not want to do anything that will impact your credit score. That includes buying a car, boat, or any other large purchase that has to be financed.
Along the same lines, your credit score needs to remain stable during the closing process. Opening new lines of credit can make your FICO score drop and send up a red flag to your lender. Avoid doing this at all costs!
And here is a great tip from Realtor.com
3. Saying too much—and undercutting your negotiating power
Be careful what you say when you're viewing a property at an open house or home showing. For instance, if the listing agent hears you say to your spouse, "I love this house, and it's way under our budget," the seller might try to play hardball when you try to negotiate on price. Keep private conversations private.
If you have any questions, please contact Alicia Blackwood, The Blackwood Team, at (916) 234-1006.
---
2017-09-20
Have you had your annual check up? These annual home maintenance to-dos can save you major headaches in the long run.
TAKE A HOME SELFIE!
Taking a photo of your home once a year is great for a few reasons.
Compare how your home has evolved over the years, this helps to show future buyers the growth and maintenance.
Insurance. If you ever have a flood or outside damage, you have an updated photo of your home pre-incident.
TERMITE CHECK!
Checking for termites and catching these little critters early can be vital in saving you hassle and money later. Drywood termites live within the wood they consume and oftentimes infest walls and furniture. They are quiet and unless you are searching will be almost impossible to detect until it is too late. Hire an inspector to pop by once a year to do an overall inspection.
HUMIDITY CHECK!
If you have ever had mold at home, you know how important this maintenance tip is. Audit your humidity every year to ensure there is no ideal condition for mold growth.
Maintaining your home will keep costs down over time, and ensure you live in the best quality condition. If you need any local referrals for home maintenance, please contact us.
---
2017-09-13
The season is changing, spice up your home with these top Fall trends.
It's that time of the year where the pumpkin spice latte has returned, boots and scarves start to appear and we have a slight change in the weather here in sunny California. So, what home décor should we expect to see this fall? Here are some predictions:
IN: Dark Green, Velvet, Woven Textures, Faux Fixtures and Brass.
The great news is that you don't have to spend a fortune to create these fall trends. Faux finishes like stick on tiles, removable wallpaper or faux floral tiles have made it less expensive to fix up your home.
Furniture featuring hand-cut, inlaid patterns is the statement piece your home needs this fall. That means, thrift shops or even refurbishing current furniture will give it that look.
Upgrade your bedroom with classic, exciting bedding. Mix different patterns together including monograms and quilts. 2017 is a boundary pushing year for interior design. It is forecasted to have mixed patterns and jaw-dropping color combinations. This is the year to play around, have fun and make your home … home!
If you need any interior designer resources, please contact Alicia Blackwood, The Blackwood Team at (916) 234-1006.
---
2017-09-09
3 foolproof ways to make an amazing first impression on home buyers.
One of the most important things to do before selling your home is ensure the first impression counts! Homes are selling fast and at top dollar, it is still important to prove that your home is worth every cent. These simple steps will help ensure that the first impression is the best to drive potential buyers.
Curb Appeal
Your home's exterior, this includes the yard, driveway, sidewalk and front entry – should serve as a snapshot of what is to come inside. Curb appeal sets the tone to a potential buyer and can make or break an offer.
Mow the grass, trim trees and plant.
Clean up the front door area and add some plants, lighting and check for spider webs.
Plant new shrubs and remove weeds.
Professionally clean
Investing in a professional cleaning company to deep clean carpets or wood flooring can make all the difference in a first impression. Carpets, over the years tend to stain, wear and tear, so it is important to spend that little extra money to make it as pristine and new looking as possible.
Caulk Tubs and sinks
Caulking around your home is an inexpensive way to add detail to your home. It's easy and can be done fast. This will also stop leaking and give that extra design touch to ensure a positive impression that your home has been taken care of.
Before you list your home, ask us to come by and examine the property for specific showing tips to make your home more appealing.
Contact Alicia Blackwood, The Blackwood Team at (916) 234-1006.
---
2017-08-01
FULL HOUSE AT FAMILY MOVIE DAY!
Thank you so much to everyone who joined us for Family Movie Day! We are planning on doing it again for Ferdinand coming in December. Thanks again
<3 #TeamBlackwood
Are you interested in joining our family events? Subscribe to our events page here to stay updated!
---
2017-07-19
Meet The Blackwood Ranch Team Baby Donkies!
We have a ton of events with animals and entertainment for families at Blackwood Ranch throughout the year. Stay updated here
---
2017-07-12
What Is a Home Warranty, and Do You Need One?
If you own a home, chances are this repair and maintenance safety net could come in handy.
First-time homeowners may be in for a shock when their water heater breaks on a cold winter morning, or their dishwasher starts to leak all over the new hardwood floors in the kitchen. The instinctive call to the landlord won't work this time around. Welcome to the joys of homeownership. So, when this happens, what do you do?
Many homeowners aren't equipped to perform even small repairs, particularly when they come at inopportune times. For some, a handy family member nearby could do the trick. Or a new home buyer may know a plumber or an electrician — but they likely won't have a lot of time to get bids and figure out the cause of the problem, much less get it repaired.
What's the next best thing to a landlord for a new homeowner? A home warranty. Click here to read more at zillow.com
---
2017-06-29
If the right thing for you and your family is to purchase a home this year, buying sooner rather than later could lead to substantial savings. Here are four great reasons to consider buying a home today, instead of waiting.
1. Prices Will Continue to Rise
CoreLogic's latest Home Price Index reports that home prices have appreciated by 7.1% over the last 12 months. The same report predicts that prices will continue to increase at a rate of 4.9% over the next year.
The bottom in home prices has come and gone. Home values will continue to appreciate for years. Waiting no longer makes sense. Continue reading here.
Ready to buy or just have questions? We are here to help. Contact Alicia Blackwood, The Blackwood Team at (916) 234-1006.
---
2017-04-14
It just may be time to upgrade your home to a more energy efficient flow. As we head into 2017, you are in luck as it might just have become less expensive to do so.
For years California has seen an increase in energy efficient upgrades as homeowners have tied them to property tax bills. Fannie Mae's has recently started a HomeStyle Energy program which is a mortgage option that will "allows borrowers to finance clean energy upgrades equal to up to 15 percent of the as-completed appraised value of the home" (Green Tech Media). Essentially, in turn for making energy upgrades to your home you will be able to lower your mortgage and save money on energy bills. What's not to love?
There are a few important details to remember though. The upgrade to your home must be completed within 180 days after you have been issued a mortgage note. In addition, you must provide an energy report which indicates how much the borrower is saving monthly. If you're willing to file all the paperwork and make your house energy efficient then you can expect to see your monthly costs drop dramatically!
What do you think of this program? Do you think it will encourage more people to make their homes energy efficient?
---
2017-04-02
So excited to say: We Are Number 1!!! We love, serve & care for each and every one of the people we work with. SUMMIT IS THE #1 MOCSI TOP PERFORMER FOR 2016!
Summit Funding has been recognized as the #1 Large Company MOCSI (Mortgage Origination Customer Satisfaction Index) Top Performer for 2016!
Read all about the 2016 MOCSI report HERE.
---
2017-03-14
Determination is a Mindset
I went to a leadership trip for work this month in the Dominican Republic with my husband. I had an amazing time with my Summit family. It is really beautiful there, with the white sandy beaches, crystal blue water, and palm trees. I had a great time learning and networking. When the time came to leave to return home we found out that all flights were delayed due to weather in Chicago. When we arrived at the airport they wanted to switch our flight to a 5 am flight which meant spending the night in Chicago. I would not let them change the flight in the hopes that we could make it. I am always up for a good challenge. Everyone told us that we would not make the flight. After we got off the plane in Chicago we had to go through customs, make it down to the baggage claim wait for our luggage, re-check our bags for the next flight, go through the security check point, and then run as fast as we could across the airport to the other terminal. We ran faster and harder than I think I ever have. We looked like crazy people running through the airport, weaving and dodging the other people there. We were determined to make it home to our kids and nothing was going to stop us. By the time we made it across the airport to our terminal they were ready to shut the door and take off, but we made it!!! When we were checking our bags they didn't think that we would make the flight so they put our bags on the 5 am flight, we didn't find that out until all of the luggage had been claimed. There were 16 other people that were also supposed to be on that flight that didn't make it in time to catch the plane, but we were not one of them.
Earlier in the month we had our first Family Day of the year at Blackwood Ranch. The first two were rescheduled due to rainy weather. I am so excited to finally have some sunshine. We had a great turn out and everyone had a lot of fun. There was a jumping course for the kids to run the mini horses over and we had all 5 horses saddled with people riding. Cowboy was feeling great and showed off some of his tricks and even did some of his tricks while one of the guests was riding him. Our next Family Day is scheduled for April 22nd. We will have a trick horse show, animals to visit with, horse rides, mini horse jumping, other activities for the kids, and an Easter Egg Hunt. We hope to see you there with the little ones!
---
2017-03-01
INCREASED LOAN LIMITS FOR FHA IN 2017
The Federal Housing Administration (FHA) just announced it will increase loan limits in 2017. These loan limit increases are a result of rising house prices.
The FHA said that most places in the country will experience an increase. In fact, 2,948 counties will experience an increase, whereas only 188 counties experienced an increase last year.
Effective, January 1, the FHA national loan limit maximum, or "ceiling" will increase from $626,500 to $636,150 and the FHA national loan limit minimum, or "floor" will increase from $271,050 to $275,665.
A complete list of the 2017 loan limits can be found here.
This announcement comes just a week after the Federal Housing Finance Agency announced it will be raising conforming loan limits for 2017. Read all about this change here.
With these loan limit increases, 2017 is shaping up to be a great year for the mortgage industry!
If you're looking to discuss this change further or start the home buying process, Contact Summit Funding Inc., Blackwood Team / (916) 234-1006
Credit/photo to Summit Funding, Inc.
---
2017-02-24
Letter From The Heart - Blue
Getting stuck in the same routine is very easy to do. After all, we are creatures of habit. We have the same breakfast each morning, order the same coffee, and get to work at the same time. Every now and then we need to change it up and get out of our comfort zone and do something out of the ordinary.
Over the weekend I decided to go for a walk with my girls in the dark. We had been cooped up in the house because of all the rain so when there was a break we took advantage of the opportunity. It was pretty late, but I decided that some fresh air would do us all some good. I got the kids all bundled up in warm clothes, grabbed a few flash lights and we went out for a little nature hike in the moon light. I have a few beanie's that have a light on them. The kids had so much fun playing in the dark. Kayla was climbing up in the trees and on rocks. I had music playing on my phone, so we were rocking out and singing to the sound track of the new movie Trolls. "I got that sunshine in my pocket. Got that good soul in my feet." It was just what the doctor ordered and a nice change of scenery.
I went to the miniature donkey ranch in Lincoln with Kayla and Shelby. The same place that I got my other mini donkeys from. I am going to be getting two new baby miniature donkeys. I spent some time with the kids at the ranch. The baby donkeys are so stinking cute. Of course the two that I picked out are spotted. One is black and white and the other is grey and white. Both are Jacks meaning boys. They are only a few weeks old and not able to come home yet. We have to wait until they are about 4 months old before they can come to the ranch. The grey and white one was following Kayla and Shelby around everywhere. They already are so curious and friendly. They will back there bottom up to you, so that you will scratch them. I plan on training them to do therapy work in the hospitals, nursing homes and schools.
---
2017-02-22
We are LOAN WARRIORS! Every month I give the spear to one employee that has been a fierce loan warrior... We
<3 to have fun here! The decision is always tough because my team is so amazing. Katherine has handed off the spear to Casey this month.
We are motivated to help you! #LoanWarrior #Fierce
---
2017-02-15
Giving Back... Every month we choose a local charity to contribute to. This month we chose the Keaton Raphael Memorial
<3 This incredible organization supports children with cancer and their families by providing emotional, educational and financial support, while increasing awareness and funding research toward a cure.

We feel so blessed to have provided them with financial support! If you would like to get involved they have many amazing ways you can contribute too! Check out their website https://childcancer.org/
---
2017-02-06
We appreciate and love the people we work with everyday! Shout out to Luke Hampleman with Liberty Mutual for treating the team to Happy Hour Friday night! We had such a great time! — at Yard House.
---
2017-01-06
Giving Back! Every month we donate money to a different charity; this month we donated to CoRR (Community Recovery Resources).

Their mission is to support our community with wellness focused programs that reduce the social, health, and economic impact on families and children from all types of substance abuse and behavioral health issues.

We encourage you to learn more about this wonderful non profit orgnaization and to get involved. For more information check out their website: http://www.corr.us/
---
2017-01-04
HOME SELLER TIP: If your home isn't looking it's best, buyers will be less likely to consider making your home their own. CLICK HERE to follow 8 tips and your home will be ready to sell via realtor.com
Ready to move? Contact Summit Funding Inc., Blackwood Team to get pre-approved today. It's fast and easy --> (916) 234-1006
---
2016-12-22
HOME OWNER TIP: Custom glass shower doors may be a gorgeous addition to your bathroom, BUT cleaning them may be a pain. Here is a tip: Take a dryer sheet from the laundry room, get it lightly damp, and then use it to scrub down the glass shower door. Voila!
- Summit Funding Inc., Blackwood Team / (916) 234-1006
---
2016-12-01
REMODELING TIP: Custom framed mirrors are a timeless and elegant way to add style, light and sophistication to any space. You can easily repaint a mirror or add a frame without having to move the mirror. Take your bathroom to the next level with these revamped mirror ideas..
Are you remodeling? Contact Team Blackwood to discuss your best loan options (916) 234-1006
---
2016-11-24
PROGRAM UPDATE: Click HERE to find out the latest news from Summit Funding Inc., Blackwood Team.
---
2016-11-22
NEW PROGRAM ALERT: THREE NEW JUMBO PROGRAMS
If a larger sized home is in your future, you will be pleased to hear that Summit Funding now has three brand new jumbo products available for our borrowers. Introducing the Prime Jumbo, the Prime Jumbo with High LTV and the Expanded Prime Jumbo. These three new loans allow us to help clients looking to finance dream homes with larger loan amounts. Here are a few of the highlights from these new programs:
Prime Jumbo:
Loan amounts up to $2 million
Max LTV of 80%
Available for primary and second homes
Eligible for first-time home buyers
Prime Jumbo with High LTV:
Loans amounts up to $1.5 million
Max LTV of 90%
Available for primary homes only
Mortgage Insurance is not required
Expanded Prime Jumbo:
Loan amounts up to $2 million
Max LTV of 80%
Available for primary, second and investment homes
Assets may be used as qualifying income
Eligible for first-time homebuyers
If you're interested in finding out more about these new jumbo loans and to review your options, please contact The Blackwood Team (916) 234-1006
---
2016-11-13
You do so much for us, so we want to do this for you. Here are some program highlights:
Up to 95% LTV
Deferred student loans may be excluded from debt to income ratio, if deferred for a minimum of 12 months
Gift funds may fund all or part of the down payment, closing costs, or financial reserves
Primary occupancy only
Minimum FICO score of 680
Future income may be used to qualify
Allowed property types include single family residence – 1 unit, PUD, warrantable condos
One borrower on the loan must have one of the following designations/professions and must have a copy of the active license: Medical resident, Medical Doctor (MD), Doctor of Dental Science (DDS), Doctor of Dental Medicine (DMD) and dental surgeons specializing in oral and maxillofacial surgery, Doctor of Optometry (OD), Doctor of Podiatric Medicine (DPM), or Doctor of Osteopathy (DO)
Want to learn more about this program or to find out if you qualify? Contact Alicia Blackwood, The Blackwood Team at (916) 234-1006
---
2016-11-10
Giving Back!

Every month Team Blackwood selects a charitable organization to support. St. Jude Children's Research Hospital was picked. Amanda came to share about their incredible orginization today.

If you would like more information about St. Jude visit their website at www.stjude.org
---
2016-11-01
"Congratulations to Alicia Blackwood of the Summit Funding Inc., Blackwood Team for winning Mortgage Lender of the Year, for the third year in a row at the North State BIA41st Annual Awards Program! We're proud to have you on team Summit!"- Summit Funding, Inc.
---
2016-10-01
Giving Back!
Every month Team Blackwood selects a charity to support. This month Chicks in Crisis was chosen. This amazing organization assists with mental, physical, and emotional healing for at risk teens and women facing unplanned pregnancy.
If you would like more information about Chicks in Crisis Inc.please visit their website at http://www.chicksincrisis.org/donate/
---
2016-09-29
My team and I volunteered time at the Placer Food Bank this week. We had so much fun bagging 900 lunches for kids in 2 hours. It was a record and I am so proud of my team - you are amazing!
---
2016-09-01
Giving Back!
Every month Team Blackwood selects a charitable organization to support. Horses, Hope and Healing was picked!
If you would like more information about Horses, Hope and Healing please visit their website at www.horseshopehealing.com
---
2016-08-31
Top Five Remodeling Projects to Increase Home Value
In real estate, it is all about the first impression. This is the key to selling a home and getting the best offer you can. Even if you do not plan on selling your home in the near future, it is an inevitable question when you consider remodeling: How much will this improvement add to the value of my home? Here are our Top Five locations in your home to remodel where you can possibly increase the value:
BATHROOM REMODEL
*National average cost: $16,798 | Return on investment: 74 percent
KITCHEN REMODEL
*National average cost: $18,856 | Return on investment: 82.7 percent
GARAGE DOOR REPLACEMENT
*National average cost: $1,534 | Return on investment: 83.7 percent
STEEL ENTRY DOOR
*National average cost: $1,162 | Return on investment: 96.6 percent
Remodeling? Contact us to discuss your financing options at (916) 234-1006 | ablackwood@summitfunding.net
---
2016-08-31
So, you bought a fixer upper - now what?
Not every house is created equal, and if you did not buy new construction, most likely you have some fixing to do! Older homes are always in need of upgrades, maintenance and even remodeling. These are called 'fixer-uppers'.
First things first - grab a pen/paper and go room to room. Make a list of everything that needs repair and beyond. You can always downsize this list to high prioirty items, for now, make a total list of everything.
Once you have your TOTAL list, pick the high priority items, this may include:
Wiring issues / electrical hazards
Structural / safety issues
Plumbing issues
Check for asbestos, termites and rodents
Remember - priorities, you can always live without a kitchen for awhile, but not electircal issues.
Once you have checked off your high priority items, the fun begins with the remodeling. Picking out tiles, flooring, cabinets, etc. Bring your own design elements into your home. Check out our Top Five Remodeling Projects to Add Value to Your Home.
Remodeling? Contact us to discuss your financing options at (916) 234-1006 | ablackwood@summitfunding.net
---
2016-08-05
WHAT'S YOUR KITCHEN STYLE?
The kitchen really is the heart of a home. It is the place where everyone hangs out, eats and delicious memories are made over and over. This is one of the first spots in a home that is usually upgraded. This can also be the most fun to remodel. First things first, decide your look and feel (theme). There are many styles to choose from, here are a few:
Modern Kitchen | Current, relevant, clean lines, minimalist detail and neutral colors descibe a modern style.
Farmhouse Kitchen
Rustic Kitchen | This design is usually a combination of country comfort and high style.
Traditional Kitchen | This elegant, formal look is characteristic of American and European homes of the 18th, 19th and early 20th centuries.
Contemporary Kitchen | Cutting-edge yet inviting space.
(photos courtesty of pinterest.com)
---
2016-08-05
CONTEMPORARY LIVING ROOM IDEAS
Living rooms are the new versatile places in the home. They can be used as a formal sitting area to a casual living space. But, how do you maximize this space without clutter. Here are some ideas to get the most use of the room using a contemporary style:
Use neutral tones and color with accessories like books, frames, artwork and throws:
Add patterns, but not too many.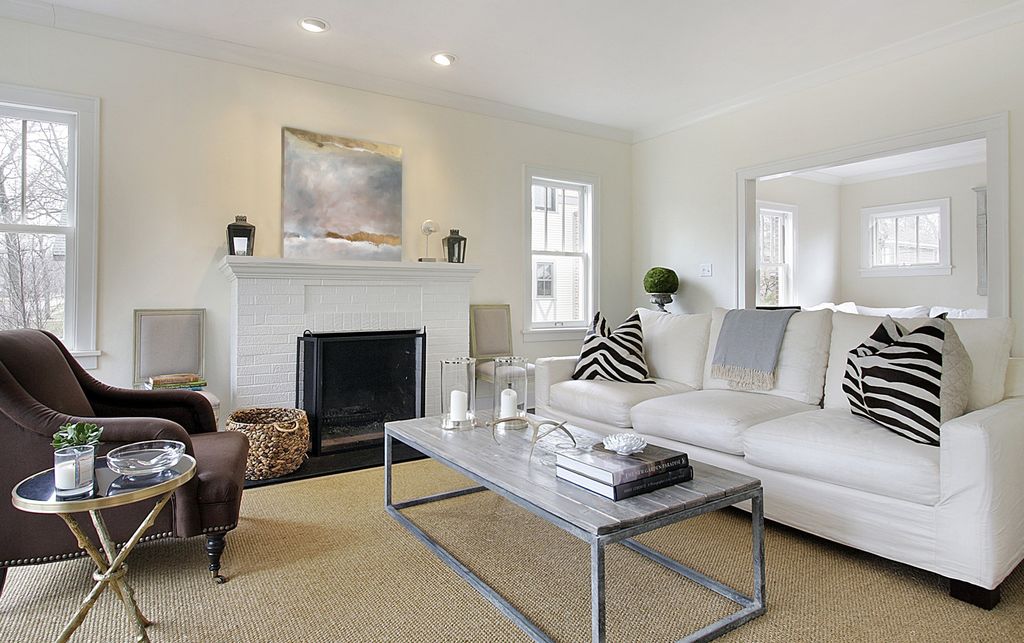 Hang the TV, speakers and hide the wires. Clutter free is best.
Use different size accessories, try not to duplicate an object.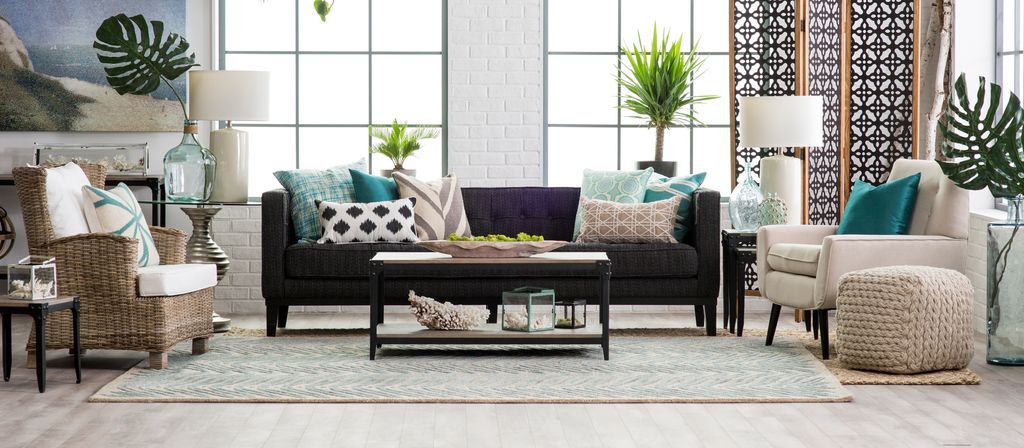 (All photos courtesty of zillow.com)
---
2016-08-05
INSPIRING LAWN-FREE YARDS
If you live in California then you know quite well how hard it is to maintain a gorgeous green lawn. The weather here, although is amazing and sunny at 70 all the time, can also be very expensive to maintain your yard. Saving water is great and desert landscaping, when done right, can be beautiful, here are some tips:
Choose appropriate plants | Combine drought-tolerant plant varieties that can go long stretches without watering. Ask your local home and garden expert to show you the drought-tolerant plant section.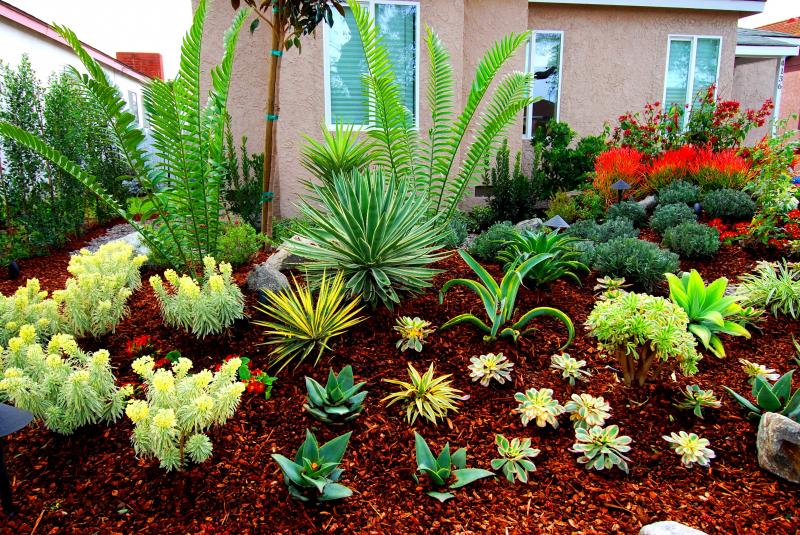 Add Rocks | Rocks can bring color to a drought-tolerant garden. Black, red and even green colored rocks can be found and fill the empty spaces for a pop of color.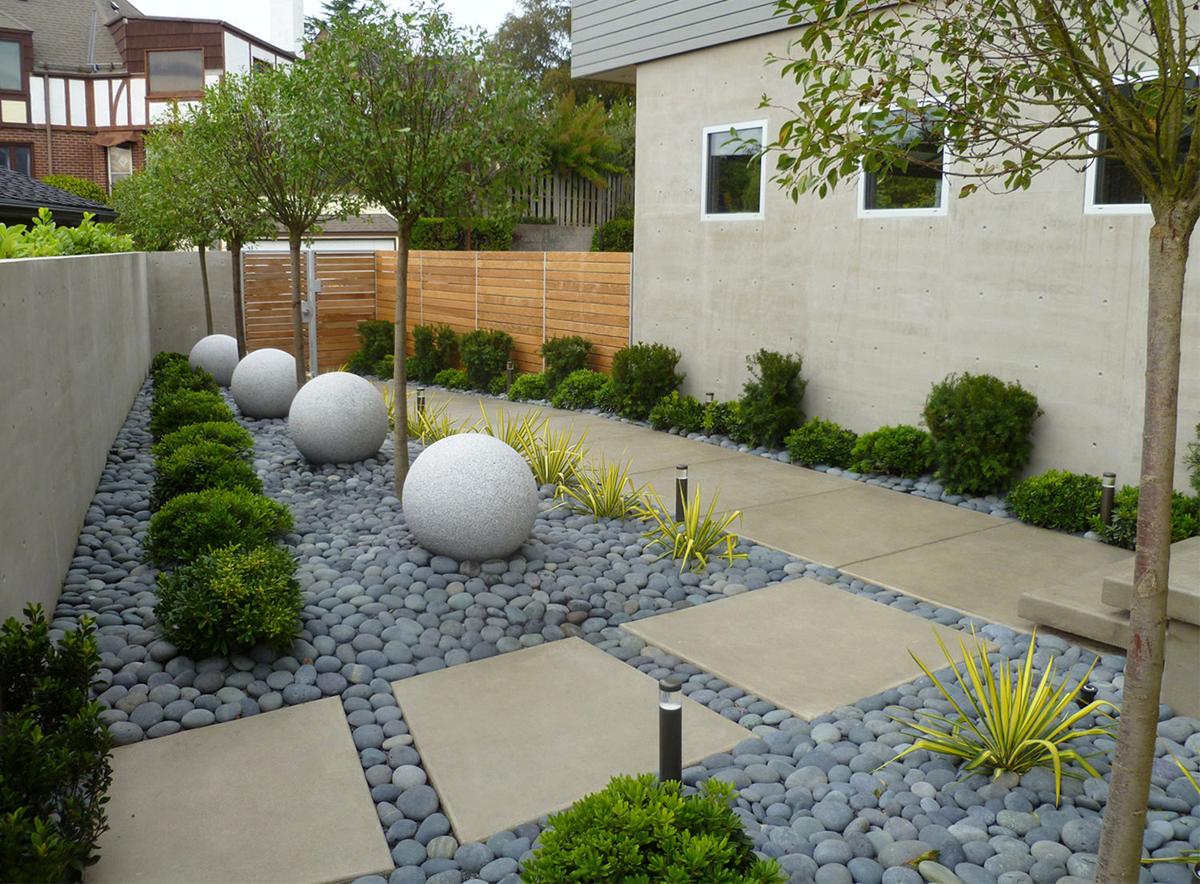 Accessorice | Add durable furnishings, bulletproof plants, no-fuss flooring and accessories like water-proof pillows and apholstry.
(all photos via pinterest.com)
---
2016-07-02
11 Most Popular New-Home Amenities
DAILY REAL ESTATE NEWS | Master bedroom walk-in-closets and a laundry rooms are the top features that builders are most likely to include in a new home this year, according to a survey of builders conducted by the National Association of Home Builders.
"Both features speak to improving organization and storage characteristics of new homes," according to NAHB on its Eye on Housing blog.
The following were ranked as the most likely features and amenities to be included on an average single-family home in 2015:
1. Walk-in closet in master bedroom
2 Laundry room
3. Great room (kitchen-family room-living room)
4. Energy-Star rated windows
5. Ceiling height on the first floor of 9 feet or more
6. 2-car garage
7. Programmable thermostat
8. Granite countertop in the kitchen
9. Central island in the kitchen
10. Bathroom linen closet
11. Front porch
Greater energy efficiency amenities also were ranked more important, with low-E Windows coming in No. 3 on the most likely amenity list on new homes. Energy-Star rated appliances and windows as well as a programmable thermostat also rated high.
---
2016-06-30
The Greenest States of 2016
WalletHub | These states are known for being green. They're known for having good air quality and practicing good eco-friendly behaviors (like in water and energy consumption and recycling). Wallethub factored in 17 metrics to find the "greenest states" in the union – and here are the top 12:
1. Vermont
2. Washington
3. Massachusetts
4. Oregon
5. Minnesota
6. Maine
7. Connecticut
8. New York
9. New Hampshire
10. New Jersey
11. Maryland
12. California
---
2016-06-28
America's 20 Hottest Real Estate Markets for June 2016
Wow, it sure did get hot fast this year! Summer has barely unfurled, but the residential real estate market is already delivering the most blistering June in a decade, according to new data on inventory and user activity on realtor.com®. Homes for sale in June are moving off the market 2% more quickly than last year as prices continue to hit new record highs. Read the full article here.
---
2016-06-27
America's Top 10 Green Cities for Nature Lovers
Did you know you can have your city and nature too? Realtor.com just came out with their Top 10 Green Cities for Nature Lovers list and San Francisco made the list. Along with the water sport location of Austin and the beautiful Honolulu.
Below is the criteria they followed to come up with the list of the most "nature-tastic" big cities:
Parkland as a percentage of city area
Air quality index
Number of plots in community gardens per capita
Percentage of homes that have a garden or greenhouse
Number of farmers markets per capita
Number of farm-to-table restaurants per capita
---
2016-06-17
STRATEGIES TO HAVE THE MOST SUCCESSFUL SUMMER YARD SALE EVER!
You may have sold your home recently and need to get rid of all the extra items, a yard sale is the perfect way to make some money, plus less clutter makes you feel good and in control of your environment.. Here are some tips to have the most successful yard sale ever! There is some preperation time, but it is well worth it.
1. PLACE AN AD
This is a great way to get the kids involved. Make bold signs (you can purchase some at the local home and garden store or even posters from your art supply store). Stick the signs all around town. Use a black or red marker, skip the glitter. Make sure you put your address, time and date of the yard sale and an arrow pointing in the right direction.
Craigslist is a popular way to get the word out. Make sure you include photos and post multiple times over a couple weeks span.
2. PRICE APPROPRIATLY
Think about what kind of prices you would like to see at a garage sale. Be fair and make sure all items are clean and if something does not work, label it as such. Use different colors stickers for each price level, for example:
Purple stickers: $1
Green stickers: 50c
White stickers: 25c
3. DISPLAY WITH EASE
When displaying all your items for sale, make it an easy path to get in and out. Place your larger objects closer to the outside area. You can also place smaller object ontop of your tables and chairs for sale. If selling clothes, you can lay down a blanket and place the clothes ontop of the blanket. Make sure electronic items have access to an electrical outlet for testing. Keep precious items such as jewelry in a display case or very close to you or another adult running the sale. When it's crowded, things can disapper quickly.
3. FREE PILE IT UP
Place a large well-marked 'FREE PILE' right in the front of your yard sale. The lure of something free will get almost any driver to stop.
4. PHONE A FRIEND
The more items you have, the more helpers you have the more succesfull your yard sale will be. Knock on the neighbors door and ask if they are interested in having a block yard sale event.
---
2016-06-09
Going on vacation? Make sure you safegaurd your home
Summer is a great time of the year to travel and with over 41.9 Million Americans traveling just on July 4th weekend, there are many homes left vulnerable for theft.
Here are some precautions to keep your home safe if you are taking a trip:
Turn the lights on and appear home: Use automatic timers for indoor lights and maybe a TV or two. And keep some curtains open; closed curtains suggest that you're away and give criminals more cover.
Hold mail and deliveries: The U.S. Postal Service makes it easy to put a temporary hold on your mail. And don't forget to suspend newspaper and other recurring deliveries, like Amazon subscriptions.
Ask a friend: Ask a friend or neighbor to help keep an eye on your home especially deliveries and mail.
Ghost your social media: Don't announce your travels on social media, and wait to share pictures until you're back home. Burglars are increasingly scouring social networks for victims. Check your social network settings, too, so you're not auto-tagged in pictures by your travel companions.
Call the bank: Give your bank a headsup of your travel. Some financial institutions will block your credit or debit card use if there are suspicious charges from out of state or country. Let them know your travel plan ahead of time.
Buy a camera: Add extra protection by purchasing a monitoring camera for your home. You can turn on alerts if there is activity in your home. Home security systems can be connected straight to your mobile device so your alerts are timely and you can catch the action right away.
Secure your valuables: Before you go, make an indoor sweep and lock up sensitive financial statements, jewelry, laptops and other valuables for additional security and peace of mind.
Have a safe trip and make sure you pack some sunscreen if you are traveling in California!
Interesting facts, the top leisure travel activities for U.S. domestic travelers are:
1. Visiting relatives
2. Shopping
3. Visiting friends
4. Fine dining
5. Beaches
---
2016-05-25
Build a Great Home Gym for Under $500
Finding it hard to get to the gym? Having to lug all your clothes, shoes, yoga mat, check in, change. This can be very time consuming (not to mention the high membership fees). But building—and finding space for—a truly usable home gym is a luxury only celebs can afford, right? Wrong!
"At-home training is efficient, effective, and economical, and you can re-create almost any movement from the gym using a variety of inexpensive equipment pieces," says personal trainer Joan Pagano, author of "Strength Training Exercises for Women." Plus, there are no excuses for skipping workouts when you can crunch next to your couch! (This is either an advantage or a disadvantage, depending on your perspective.)
Remodeling your home? Contact Alicia Blackwood to discuss your loan options.
(916) 234-1006 * ablackwood@summitfunding.net
---
2016-03-29
Hello everyone!
I wanted to reach out and update you on what has been going on for me this year. I may not have shared this before, but last year I opened a non-profit "Blackwood Ranch, therapy animals" It is my dream that one day when I retire I will be able to share my animals with others and bring them as much joy as they bring me. So I thought why not get started now! So it all began with my little 29" horse "Big Daddy" I started bringing him around to visit my corporate office and builder communities I worked with. He has always done so amazing, so I decided to get him certified through "Pet Partners" which is a national therapy animal organization. This way he was approved to go into hospitals and the public. So we have been visiting Sutter hospital which you probably have seen in one of my weekly videos. We are now visiting 3 nursing homes the second Friday of the month, and wanted to share some of the happy faces we were able to enjoy. When I say "we" it is because my daughter Kayla went with me to share the love. We also had the opportunity to enjoy the Parker Whitney elementary school's book fair. The children's faces were so precious, I was so proud of him. He was in an auditorium with a DJ and probably 20 kids hula hooping. So we are expanding our little therapy farm and we are happy to introduce "Chippy" the goat. We got him through a friend and right from the start he just loves to snuggle. I took him to our corporate office to brighten their day, and I use them as my guinea pigs for new animals, and it went amazing. I taught him to walk on a leash. I would come into a huge department of people and they would be all serious heads down hard at work, and then once they saw "Chippy" there faces lit up and laughter started. The room was filled with happiness, and my favorite part is when I left the room everyone was still so happy and laughing. I know it changed the whole rest of their day. I mean really, who gets a visit from a goat at work? So much fun! Please don't forget if there is a charity you believe in and would like support with, we put any that are sent in, into a drawing every Month. A different charity is picked each month. Last month we chose Cerebal Palsy and were able to raise $1,600 for our local charity. I hope everyone is doing well. I trully appreciate each and everyone of you who gives me the opportunity to help you or your clients with home financing. I feel very blessed when I get to come to work everyday and make a difference in others lives. God Bless!
Thank you,
Alicia Blackwood
---
2016-01-13
Hello everyone,
I just wanted to check in to say Happy New Year from my family to yours! Just reflecting back on this year, so much has happened for me and my family. I had a beautiful baby girl "Shelby Lou" in April. And also bought a house that same month, in fact it was 7 days before Shelby was born. It really gave me a chance to remember what clients go through during the home loan process. How hard it really is, to collect all the documents, when you are under so much stress. I want to thank each and every one of you, for blessing me with the opportunity to help you manage that fear, during your home financing in 2015. I truly appreciate the opportunity to make a difference in all of your lives.
I want to share with you some of the changes that have taken place in me in the last 12 months. I read two of the most amazing books one by Jon Gordon, "The Carpenter" and the other was "Lead for God's sakes," by Todd Gongwer and Urban Meyer; they truly changed me as a human being. I decided to write a book this year, I have always known I was going to write it since I was a young child. It is going to be titled "Black Sheep." I will keep you updated on my progress.
The biggest theme for me this year was to give back. To "Love, Serve, and Care for others," My team and I are selecting a charity each month this year. And for every family that we help with financing, we are donating $100. Last year we were able to really make a difference. We raised $2500 for Roseville SPCA, $4000 for Alzheimers, $2,100 to Laughlin Ranch (they took in animals during the horrible fires this year), and this month we are working to raise money for Autism Speaks (this charity assists children with Autism). We are drawing a charity from a fishbowl every month and want you to be involved. If there is any charity that means something to you, please submit an explanation of why it matters to you. You can submit to ashley.davison@summitfunding.net.
If you have not read the books and would like a copy, please reach out to ashley.davison@summitfunding.net and we will make sure to get you a copy. I truly believe that anything is possible and would love to share that message with others.
My team and I, are always here for you if you need anything regarding credit, home financing, or any real estate needs you might have. I am also teaching Family Budgeting every third Monday of the month in the evenings, please watch for the invites, or call for details.
Hope your start to 2016 has been awesome, and I look forward to talking with you soon.
God Bless,
Alicia Blackwood
---
2015-10-14
Giving Back!
Every month Team Blackwood selects a charitable organization to support. The Gathering Inn was picked!
If you would like more information about Gathering Inn please visit their facebook page at www.facebook.com/thegatheringinn
---
2015-09-14
Hello everyone,
I wanted to share some exciting news with you about what is going on with myself and the Blackwood team. We as a team wanted to give back to the community and as a group we chose the SPCA for the month of October. So for the month of November we are donating $100 for every family that we help get into their new homes. We are really excited about this, as my very own miniature horse Big Daddy, actually won the placer county "Animal Heroes" award back in March by the SPCA. He won it for being the first horse in Sutter Hospital, now he is an official registered therapy horse. He even made the Sacramento Bee's front page.
I also wanted to update you on my little munchkins. Kayla is now 4 and is as spunky as ever. It blows me away how smart kids already are at age four. She currently attends "Smart Start School" in Loomis, it is a small little school that has farm animals on it. They have a little pig and a few horses. The curriculum they teach is amazing. She has been going there for a few years and I remember the first time she came home and was reciting the pledge of allegiance I was in awe. Now that we have a new little one Kayla has really stepped up into the big sister roll. She has been such a great little helper. I had forgotten how hard little babies are, and how the sleepless nights creep up on you. I am happy to say miss Shelby is down to around 2 times a night waking up, thank God! I did want to share a picture of her with you. Now that she is already almost 5 months old, I cannot believe how time flies.
Remember I love hearing about what is going on in your life so please send pictures or drop an email, or call to share. If or anyone you know needs any help in real estate please don't hesitate to give us a call. God Bless!

---
2015-06-18
Hello everyone,
I just wanted to touch base and share of little of what is going on in my life. If you haven't already heard I am pregnant and due 4/28/2015. I am super excited to bring Shelby Lou Blackwood into this world. Yes I am having another little girl. So between my niece who I adopted, and my daughter Kayla who is not 3 years old. My poor husband will have 4 girls who he is living with. He will kill me if he knew I shared with you that he is amazing at braiding hair now, lol. I am still riding horses and get looked at quite weird form others as I'm sure they think it is dangerous and are afraid I may fall off. I am happy to report I rode last time all the way up until 2 days before I gave birth. So I 100% trust my Mattie, which is my 20 year old horse that I ride on my drill team. She still takes amazing care of me, Below is a picture of me jumping her at 6 months pregnant. Don't worry I know I am crazy. I promise I am not standing up carrying fireworks though. I am saving that for when I am no longer pregnant. I timed the pregnancy perfectly so I have the baby just in time for the Folsom Rodeo. As most of you know this is my favorite event all year, that I look forward too. It is the weekend of 4th of July and if any of you would like to come please reach out to me if you need tickets.
I couldn't help but also share an updated photo of my little Kayla. She is turning 4 this coming 7/11 and it just blows me away how smart kids are at such a young age. From age 2-4 I can't believe what they know and how they rationalize in just such a short time period. Some of the things she says to me sometimes I just have to look at her in awe. This is a picture of her at Christmas sporting her little princess crown. She was so proud and made sure everyone called her princess the rest of the day. It's the little things that bring her joy, brighten my day. I just wanted to reach out and say hello. I always love when you reach out to me and share what is going on in your lives as well. Rate are amazing so if you are looking to refinance to save money, or purchase a home, or need to do home improvement I am always here to help. God Bless! Hope you are doing well and look forward to talking with you soon
---
2014-12-09
Hello Everyone.

Hope everyone is having a great time this holiday season. This is my favorite time of the year. I love having an excuse to love on others and give gifts away. Every year of my life I have gone to my grandmothers house in Shaver Lake. My Grandfather built two cabins there. One says "Vic & Shirley" on it and one says "& Kids. " It is my father's parents and my Grandfather has now long passed away. But this tradition for me is one that I hope last my life time as well as my children's. Growing up in the city in my childhood it was nothing short of a miracle, to wake up to a white Christmas with it snowing outside.
---
2014-09-23
Hello Everyone.

I wanted to share with you the cutest story. Even though I have had horses for 12 years I have never been in a horse show. Well I know I have shared in the past I have adopted my niece (Violet) as of last January and she is 8 years old. I also have a daughter (Kayla) who is 3 years old now. So last weekend I decided to take them to our very first horse show. It was the most adorable thing I have ever seen. There were kids riding horses that were only 35 inches tall, it took everything in me to not take a million pictures. So one of the events is called Lead Line, and that is where I (the adult) walk the horse around in a circle, while my daughter Kayla was riding. It was based on equitation which is how straight and correct she sits in the saddle. Well of course this is my kid we are talking about, so she could sit still she was sitting sideways, leaning backwards, picking her nose it was hysterical. Even though she was a little crazy she still got a ribbon! YEAH!

She was so proud of herself.

Next we have Violet, since Violet is a little older she had a better grasp on what was going on and what she was supposed to be doing. Before the show she had me run through what was going to happen over and over and over, and wanted to practice multiple times. She kept saying I am going to win Auntie or at least get 2nd place. I knew she had a great chance. So the day came and she was really focused! She sat up straight and took it very seriously. Her very first show she got Second place! I was so proud of her. Now she is definitely addicted and honestly so am I: Our next show is coming up and she is already talking about it.

If you or anyone you know is interested in attending or getting into these types of events for their kids, please don't hesitate to give me a call. You can even ride little miniature horses, which I have one. I am probably going to bring next time who is only 29 inches tall. That way, even the little kids can participate. One kid was only 22 months and was competing, it is adorable. I love hearing from you, please don't hesitate to reach out to me anytime to share what is going on in your lives as well. And of course if you or anyone you know is in need of home financing or just interested in checking where rates are, I am always here to help. God Bless! And I look forward to talking with you soon.
---
2014-06-17
Hello again!

Hope everyone is doing well. I wanted to share with you a story of a recent event our team did together. We raised $2700 for the Susan B Komen Race for the cure, breast cancer awareness cause. As a team we have been picking a different charity monthly to raise money for in our community. The day started early with us all getting there around 7am. It was shocking to me how many people were at the event all dressed up in Pink. Of course being the animal lover that I am, I have to bring "Big Daddy" our miniature horse. The kids had a blast painting pink in honor of the event. He and I didn't make it the whole 5k walk but we made our best efforts, he is a little old man at 21 years old. My husband, daughter and niece came and my niece was the handler of big daddy during the event. I was so proud of her, and actually she was quite proud herself. She came up to me at one point and said "Big Daddy is famous everyone wants to take a picture of him" I just love bringing animals out to share with others; it is not every day that people get to spend time with little horses.

Right before the race started there was plenty of news coverage going on, and we even made it into the Sac Bee. The reason I am sharing this story is if you have a cause that you believe in and need support with we would love to join forces with you to make a difference. Please reach out to us and let us know what cause you believe in. We are always looking for new charities that need extra support.
---